Convex Interactive has launched BerryTalks, a Communications Platform as a Service (CPaaS). This streamlined dashboard helps you change the game of customer interactions with a hello.
With BerryTalks, brands and businesses can communicate with clients, manage business goals, offer support, customer care, and get real-time analytics with live reporting.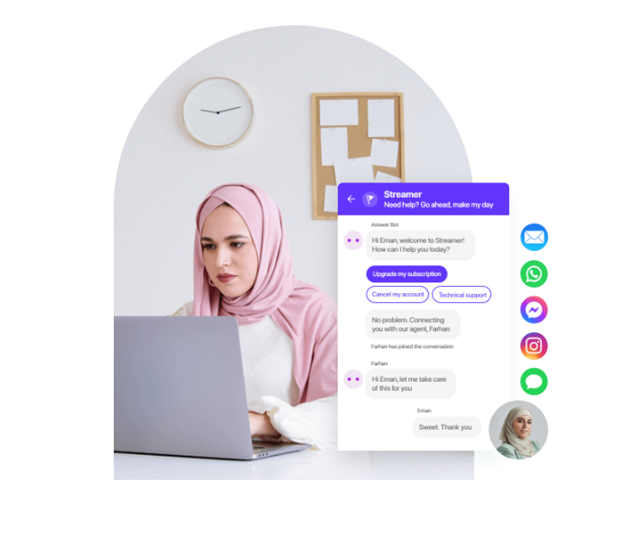 One Platform for All Your Business and Customer Needs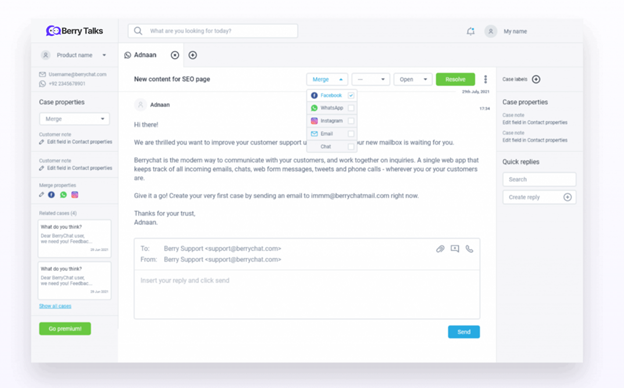 Customers aren't a fan of delays, they want you to reply quickly and remember what they said on different apps so they won't have to repeat themselves.
With BerryTalks, businesses will have access to an entire suite of customer engagement channels, enabling them to improve customer and agent experience, and deliver rich, branded messages via WhatsApp Business API and other conversational platforms.
Generate Qualified Leads, Increase Engagement, and Deliver Instant Support
With BerryTalks, now you can integrate WhatsApp Business API, Facebook Messenger, Instagram DM, Call Centre, SMS, Twitter, Shopify, and Email platforms onto a single dashboard and create powerful chatbots that can handle 35% of the whole traffic.
It lets businesses:
Assign chats to relevant agents
Build customer profiles
Collaborate with your team
Create audience segments
Broadcast messages
Instant shop
And much more…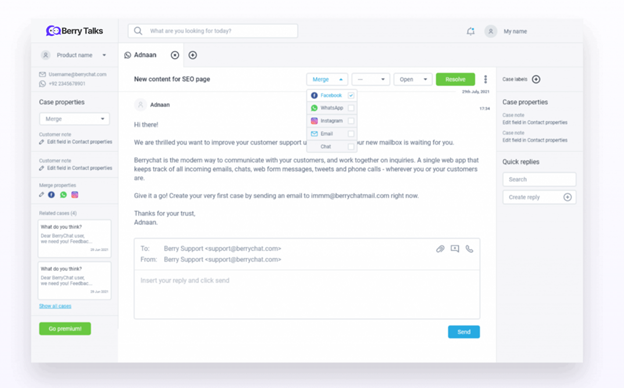 All-In-One for everyone
BerryTalks lets businesses converse with customers anywhere and everywhere seamlessly.
WhatsApp Business API Integration
Create interactive conversations for your business on WhatsApp, one of the fastest growing Messaging Apps in the world.
Jump in where needed and speak with qualified leads with our customized call center services and make every customer feel like a VIP.
90% of text messages are read within 3 minutes, making SMS the best medium for any time-sensitive messaging. Text marketing CTRs run as high as 30%.
Easily build and automate interactive conversations for Facebook Messenger that nurture relationships and lead to more conversions.
Increase product sales, customer engagement, generate qualified leads, and deliver instant support through personalized conversations.
Bring your team's email into a shared inbox to work together, boost productivity, and build important relationships.
Change the e-commerce experience for your customers with automatic reminders, notifications, and personalized Chatbots.
Reach a wider audience and generate leads with just a tweet by integrating Twitter on BerryTalks.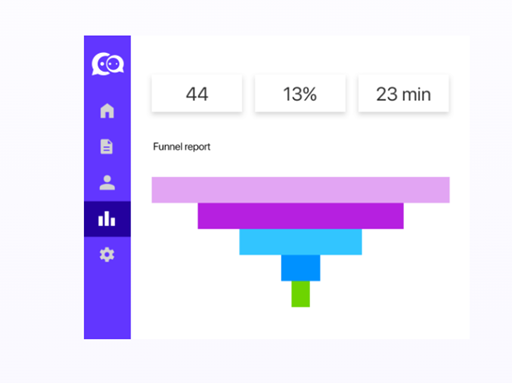 Revolutionizing Customer Interactions

Manage and respond from one unified conversational platform seamlessly
Team Progress Tracking
Evaluate your team's volume by channel, busiest hours, and trending topics among your customers.
Omni-Channel Analytics
View insights and necessary metrics instantly to create customized consumer experiences via Omni-Channel Analytics.
Unified View of Your Customer
CRM lists customer data, previous conversations, and app activity alongside every support request so you can deliver faster, more personalized support.
Set your teams up for success
Our reporting solution integrates data from every channel, so you can measure how customers interact with your brand without losing the thread.
So what are you waiting for?
Experience it yourself.
Book a demo now!